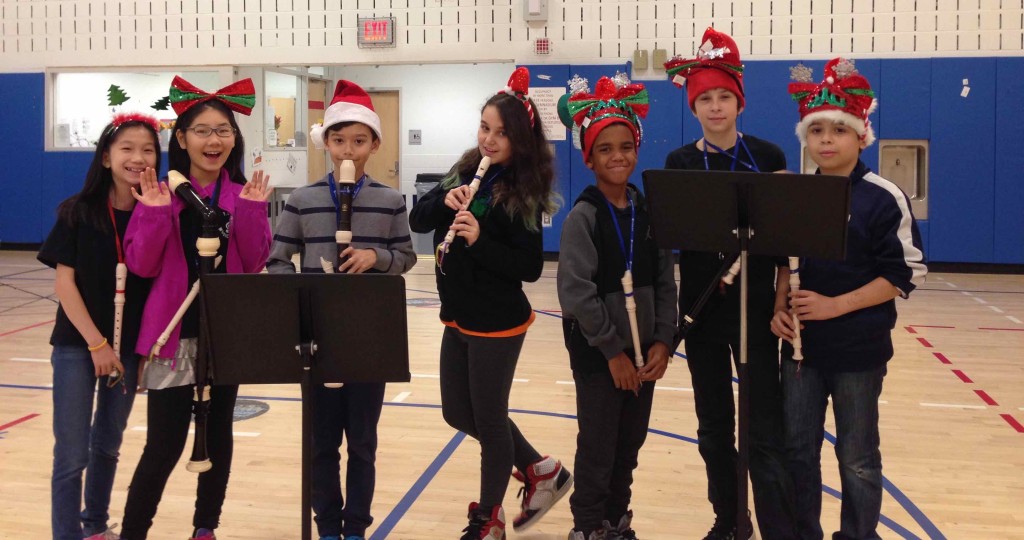 What is Recorder Ensemble? We have two select recorder ensembles (group of musicians)- one made up of 4th graders and one of 5th graders. Each ensemble has between 10-15 members depending on the school year. We meet once a week to learn how to play additional members of the recorder family. 4th grade students learn to play the alto recorder which has a different set of fingerings and a lower range than the soprano that we learn in class. 5th Grade musicians get to choose one of the following: sopranino (the highest), alto, tenor, or bass (lowest) recorder. Both ensembles also learn extended ranges and multipart music on their soprano recorder as well. We perform several times a year to share our discoveries with our friends and families.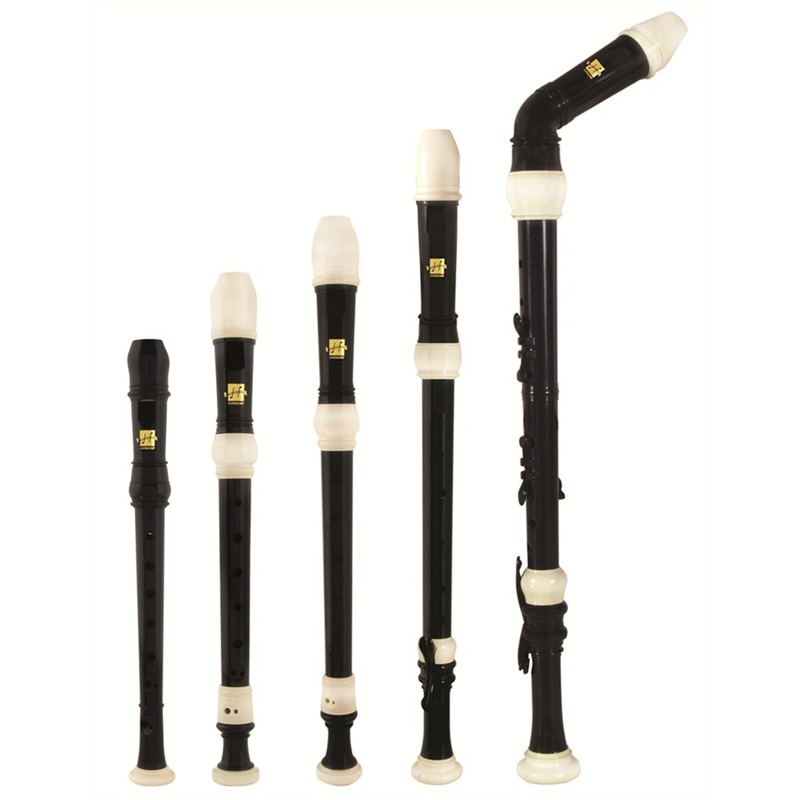 Featured Left to Right: Sopranino, Soprano, Alto, Tenor, Bass
How do you join Recorder Ensemble? Students are selected based on their outstanding achievement during the previous year's recorder technique and music literacy studies. In order to get invited into recorder ensemble, you must have earned your black belt in Recorder Karate the previous school year. You also must have a very good attendance record and complete your regular classwork on time. (If you are new to our school and are interested in RE, come and see me.)
Does it cost anything to join? Each student selected for the ensemble will be loaned a special recorder- alto, sopranino, tenor, or bass- for the year. There is no cost to participate; however, if the special recorder is lost or damaged, you will be required to replace it. ($28-Alto, $68-Tenor, $12-Sopranino, $230 Bass) If your child does not own one of our performance uniform t-shirts (black shirt with white lettering PS 51 Musicians), you will need to purchase one for $7.
When does the ensemble meet? Recorder Ensemble meets during the school day. We will rehearse once a week during 5th period lunch. Students will report to Rm C23 (our music room) at the beginning of their lunch recess period (11:45 am), and I will dismiss them to the cafeteria after rehearsal (12:15 pm) to eat their lunch. Joining this ensemble means they will miss their recess time on rehearsal days. They are not allowed to miss rehearsal for any reason accept illness or field trips. If they miss rehearsal more than 2 times- *or show up unprepared without their recorder or music*- they will be dismissed from the group.
4th Grade will rehearse every Tuesday.
5th Grade will rehearse every Wednesday.
**Occasionally rehearsals will be switched due to holidays and field trips.
Please make sure to check your email regularly for any updates about rehearsal changes. Thanks!!
Make sure to bring your recorder and music to all rehearsals.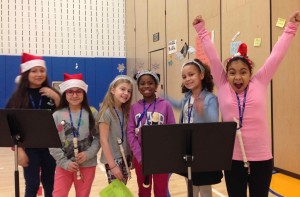 ---