Orff Ensemble will meet on Tuesdays from 2:30-3:30pm in the music room. Throughout the program, students will be learning advanced drum and mallet technique, basic improvisation, accompaniment skills, and composition/arranging with a strong emphasis on musical play. They will also have opportunities to conduct the ensemble and to perform their compositions. It is an honor to be selected for this ensemble as spots are limited to twelve. I expect every member of this ensemble to uphold the highest standards of character- both in and out of the classroom.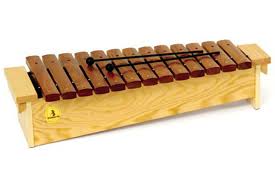 Audition Information
There are no formal auditions for this ensemble. The challenging composition and improvisation explorations require a large amount of one-on-one instruction for each member, and in order to offer the best educational experience to every child in the group, I have limited the size of the class to twelve members. If a child is interested in joining the group, he or she can write a short essay detailing why they want to be a part of the ensemble and submit it to me within the first three weeks of school each year. Students are selected based on musical skill, interest, and their ability to work well with others. Students should be able to play recorder, drums, and barred percussion (xylophone) with ease and proper technique.
---