Hi students, parents, and friends! My name is Katie Traxler, and I teach elementary music at PS51 Elias Howe, a public school in Manhattan, NY. In addition to daily music classes, I lead two after school choruses, two recorder ensembles, an Orff ensemble, and guitar and ukulele classes. Committed to collaboration among the arts, I work closely with our visual arts teacher, Shani Perez, to maintain an arts rich curriculum integrating music, movement, drama, and visual art across all grade levels.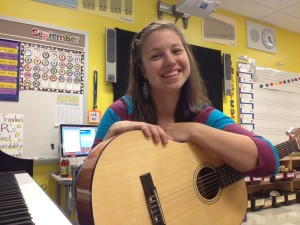 Glad you came to visit my website. There are different menus above depending on if you are visiting as a fellow educator, a PS 51 Parent, or one of my many fabulous little musicians! Links to my YouTube channel, Flickr photostream, and our Donors Choose pages can be found at the upper right corner. Hope you find something to enjoy!
---
If you are NEW to PS 51, please sign and return the Media Consent Form to Mrs. Traxler ASAP!
---
Check out some past student performances from our
2016 PS 51 Arts Benefit Celebration!